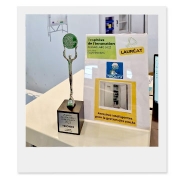 The Innovation Trophies & French Start-up Awards highlight the most remarkable know-how and innovations of the exhibitors.
Winner: 90 minute fire resistant safety cabinet (EN 14470-1) with automatic inventory management.
In most cases, an inventory is time consuming, with one person often dedicated to this task either daily or too regularly to be cost effective. Based on our experience and our know-how on fire resistant storage cabinets that comply with the European standard EN 14470-1 and are resistant to 105 minutes, we propose to add an automated management of the products stored in your cabinet.
in your cabinet. We have also found that up to 30% of products exceed their expiry date before they are used. This is a dead loss that we propose to save regularly. To cope with the complexity of managing your stocks, we offer you a new range of intelligent cabinets. This range is equipped with NFC technology. Near Field Communication is a wireless communication technology that allows the transfer of information between several devices and in particular between your connected dock and your stock management software. Thanks to this technology, you can follow the state of your stocks in real time, in a simple and visual way. The inventory is fully automated.